A warehouse should ensure regular inspections of all pallet racks so that any design, installation, or loading problems are spotted right away, before they turn into dangerous situations.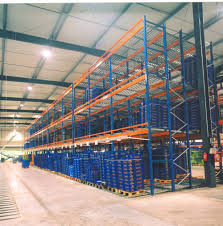 Regular pallet racking inspections are needed to ensure that all safety and design standards have been met. The importance of using quality pallets cannot be overstated, so make sure the pallet racks you purchase are manufactured following the industry standards applicable in your country; for example, the Steel Storage Racking Standards, or the Metallic Material- Tensile Testing at ambient temperature Standards, as well as any international standards, such as ISO 9001: 2008.
Generally, pallet racking inspections are carried out by qualified inspectors who check that all rows are aligned properly, the frame is straight without signs of rust or chipped paint, etc, given that a durable frame, corrosion resistant paint, and sturdy column protectors are essential to ensure the durability of the racking system. But aside from booking professional inspections, internal inspections carried out at regular intervals are a good idea as well. The first inspection should take place during the installation process itself, when the installer should make sure that the team followed all procedures, and check them against the user manual issued by the manufacturer of the pallet rack.
What to look out for
If the floor has been uneven to begin with, and shims had to be installed to make a level surface, these should be checked to ensure they have not moved out of place. One common problem is the overloading of the racking system which may cause the rack to collapse altogether; though it may be more difficult to detect, overloading is a serious issue that should be addressed immediately. Check this quality pallet racking for sale.
The use of a severely damaged rack has to be discontinued right away, even if it may still stand. An upright that has been damaged by a forklift should be repaired immediately, or replaced if the accident has rendered it too faulty; otherwise, the collapsing of a rack could cause people to die or goods to become damaged and useless. Damaging the base of an upright can cause a complete collapse of the entire frame, so aside from installing protective shields around the base of columns, using the right forklift is essential to avoid or minimize the risk of accidentally hitting the upright.
Moreover, the warehouse itself has to be regularly inspected by qualified personnel from the fire department. You can also arrange for an initial inspection of the warehouse, where consultants will check, among other things, if the space available is suitable to accommodate the number of racks you have to store.