What can be done with the plot when you completely surrender from a business? What happens to the site that had a great prospect? If you had a garage business, then the old garage space can be remodeled and used in various ways.
The vacant space of your garage can help you to start your alternate source of income, trusted spray booth service. Execution of the plan is certainly not very easy, but if you move according to some strategies then the work will surely become quite simple. Let's put some light on how it can be done:
Planning of what can be done
The initial planning is very crucial and for every business such planning is required. Remodeling your old garage space can be expensive, so until and unless you know how the remodeling can help you, why should you invest so much? The old garage space can be rented or sold to businesses like warehouse business, etc. You can also rent it for spray booth service or carpentry service. The initial planning would help you to decide how you can benefit from the old garage space.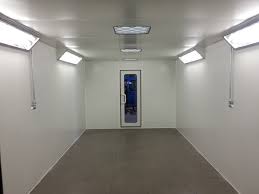 How to do the remodeling?
Now for remodeling, you need to talk to some specialists/ contractors. The remodeling should consider repairing the cracks, holes, roofs, etc. Some work on flooring or on the portions for ease of doing the business. The contractors can also suggest you how to proceed with the remodeling work.
Which businesses to choose from?
Next, you have to choose which business would benefit you more. Depending on the location of the site, you need to choose whom you will sell/ rent the plot. If your garage is somewhere outskirt of the city, then it can be hired by warehouse businesses. On the flip side, if the site is within the city then you will not need to think much. There are plenty of businesses that need to operate from the city and thus your remodeled garage will be a great place for them. Businesses like carpentry or spray booth will be ready to pay you hefty for the site.
Renting or selling- which is a good option?
Would you like to rent the site or sell it? Renting is a much better option as you can keep on earning on monthly basis. Selling can fetch you handsome amount, but you cannot use the site for your own business in future. Often people commit mistake by selling such lucrative properties. If you do not have any financial problem, then selling won't be a good idea at all. Rent the site for a few years and if require you can sell it in future.